Vegan Coco-nutty "French Toast"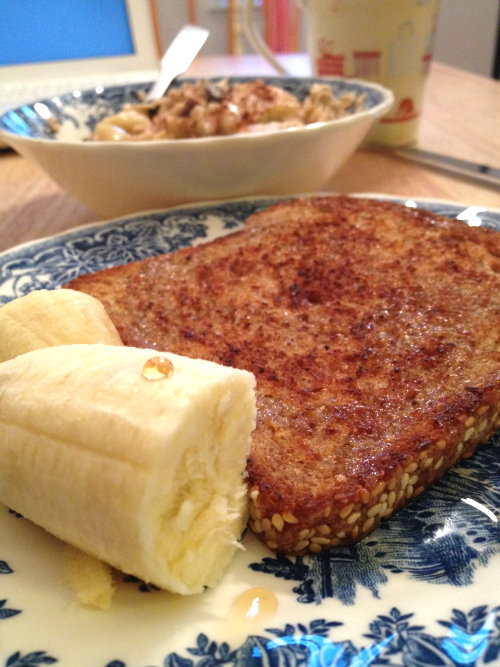 I really don't have anything to say about this recipe besides, OH. MY. GOD! Party in my mouth!
One night I was scrolling through Instagram before bed, and briefly caught a glimpse of someone's photo that mentioned making French Toast but replacing the eggs with coconut oil. Well, I went to sleep dreaming of baked breakfast goods, then gave the idea a shot when I woke up the next morning. I didn't look up any recipes or second guess it for one second. I just heated some coconut oil in a pan, and the rest is history. Delicious, delicious history.
Any kind of bread will probably taste really, really good with this recipe, but I'm convinced that what really took this over the top was the fact that I used Ezekiel bread. The nutty flavor of the bread mixed with the coconut oil is just out of this world!
Screw traditional French toast. I'm making mine Coconut style from now on.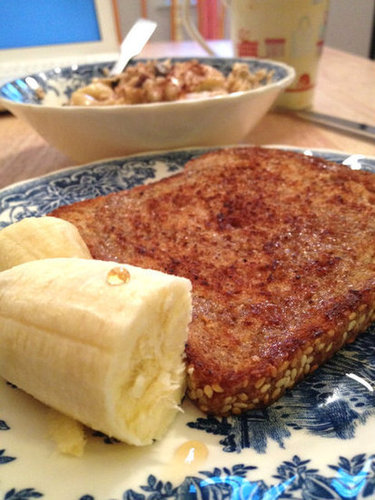 The Hungry Runner
Vegan Coco-nutty "French Toast"
Ingredients
1 Slice of Bread (preferably Ezekiel)
1-2 T Coconut Oil Oil (Depending on how saturated you like your "French" toast.)
Directions
1. Heat the coconut oil in a medium-sized frying pan for about 1 minutes.
2. Place the bread in the pan and use a fork to swirl it around in the oil.
3. Flip the bread over and swirl it around again to coat the other side.
4. Cook each side on medium heat for 2-3 minutes or until the bread turns "toasty."
Information
Category

Breakfast/Brunch, French Toast
Saved to