Vegan & Gluten-Free Red Velvet Cake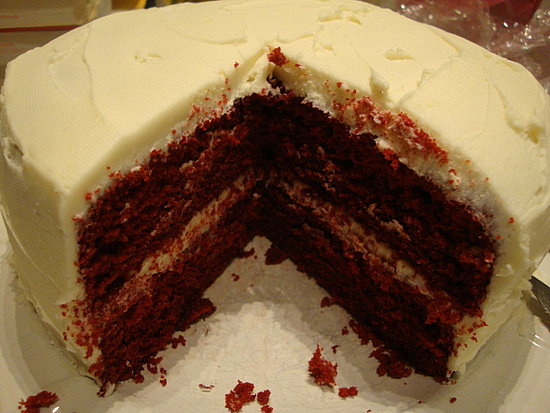 Some of you may recall when I made this cake about a year ago, I put in way, way too much of the flour mixture and a friend, who I had served it to, joked that I made him eat a brick. The cake was a disaster and apparently, it took me a year to get over it, but here it is. Wow, what a difference correctly following the recipe makes!
This cake is outstanding! You'd never know it was gluten-free AND vegan! The cake was soft, moist, and not too sweet. (The icing will sure make up for that)! This is now going to be the family birthday cake for a while—it's that good! Plus, I've completely redeemed myself and my friend told me he can no longer tease me about serving him a brick!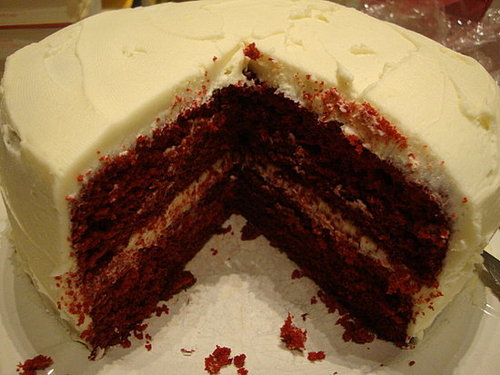 Living Without (cake, not frosting)
Vegan & Gluten-Free Red Velvet Cake
Ingredients
1 C gluten-free vanilla rice milk
1 tsp cider vinegar
2-1/2 C Betsy's Baking Mix (recipe below)
1 tsp salt
1 tsp xanthan gum
1-1/2 cups sugar
1/2 C palm oil shortening
2 Tbs unsweetened cocoa powder
1 oz red food coloring
1/4 C + 3 Tbs unsweetened applesauce
1 tsp vanilla
1 Tbs distilled white vinegar
1 tsp baking soda
1 recipe butter cream frosting (below)
BETSY'S BAKING MIX: this makes 7-1/2 cups–remember, use just 2-1/2 cups of it.
3-3/4 C garbanzo bean flour
2-1/4 C potato starch
1-1/2 C tapioca starch/flour
BUTTERCREAM FROSTING:
1 C Earth Balance margarine
4 to 4-1/2 C confectioner's sugar
Vanilla rice milk
Directions
Preheat oven to 350. Make your baking mix first: Combine all the flours in a large zip-lock bag. Using a whisk, blend them well. Then seal tightly and shake it vigorously for 1 minute. This mix will stay good for up to 3 months.
Grease 2 9″ cake pans, line the bottoms with parchment paper, then grease the parchment paper; set aside. In a small bowl or measuring cup, combine the rice milk and cider vinegar to create "buttermilk" and set aside. In a small bowl, use a spoon to combine the cocoa powder and food coloring. (Keep in mind that 1 ounce is a full-sized bottle of food coloring). It will form a paste: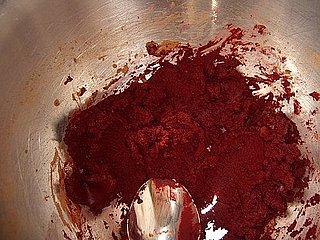 In a large bowl, combine 2-1/2 cups of the baking mix, salt, and xanthan gum. In the bowl of a stand mixer, cream together the sugar and palm oil shortening. Add the applesauce and vanilla and cream everything together until mixture is light and creamy. Add the cocoa paste and mix well.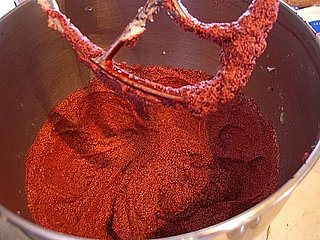 Alternately, add the dry ingredients and the "buttermilk" mixture to the batter, beginning and ending with the dry ingredients. Pour the white vinegar into a small cup and sprinkle the baking soda over it. Immediately pour the fizzing combo into the cake batter and thoroughly mix it in. Evenly divide the batter into the two cake pans.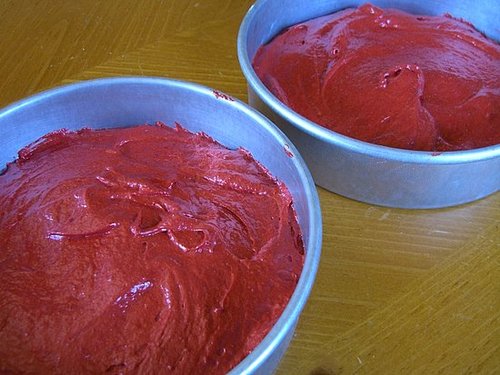 Bake for 30-35 minutes, or until a toothpick inserted into the center of each cake comes out clean. Let the cakes cool completely on a rack before turning them out of the pans.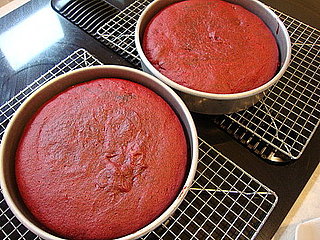 Once cooled, turn over the pans and remove the parchment paper. Take a large plate and place it upside down on the bottom of one of the cakes (that will be upside down on the rack). Flip over so the cake is face up on the plate.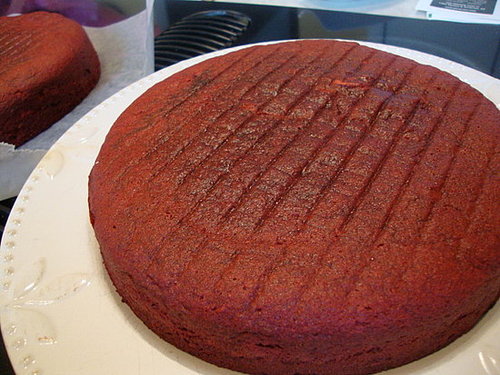 To make the frosting cream the Earth Balance until smooth. Little by little, add the confectioner's sugar. Add the vanilla rice milk 1-2 tablespoons at a time until you reach a thick consistency.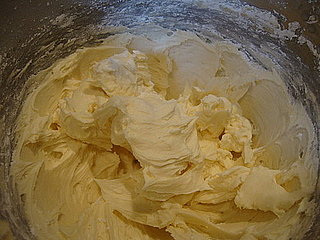 Frost the top and sides of the cake that is on the plate. Lay it pretty thick, especially on the top. Carefully place the 2nd cake on top and frost that one.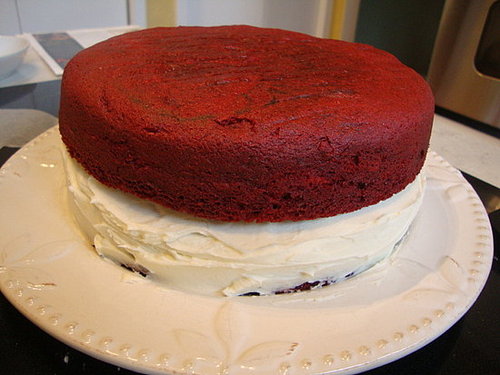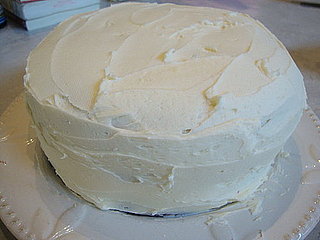 Slice and enjoy! Cover the leftovers and store in the refrigerator.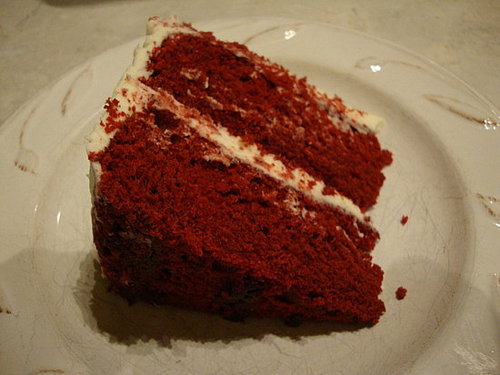 Information
Category

Desserts, Cake
Saved to