Vegan Gyros with Tzatziki Sauce and Homemade Pitas
Damn, I'm good! (I love when I can say that about a recipe I made)! First, Lauren presented a great challenge to me over at Kitchen Challengers by making homemade pitas. Check out our recipes here.
So I decided to make gyros with these fabulous (and dairy-free) pitas and they were outstanding! Over the years, I had been working on perfecting my tzatziki sauce recipe and I think it's exactly what I've been working towards. Also...use leftover sauce for dipping veggies and/or veggie chips and crackers. If you think you don't have time to make your own pitas, you might be surprised at how easy it actually was, plus what a difference! They were soft, fluffy and not one bit dried out like store-bought pitas. Go for it!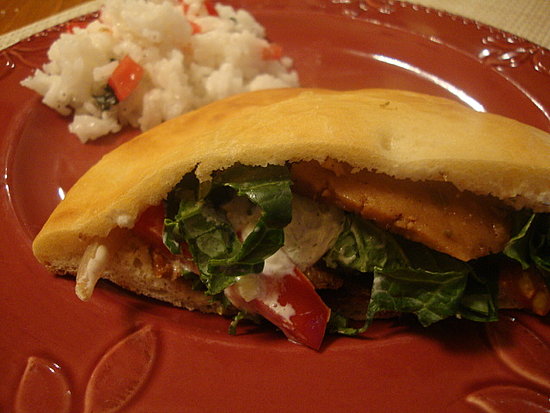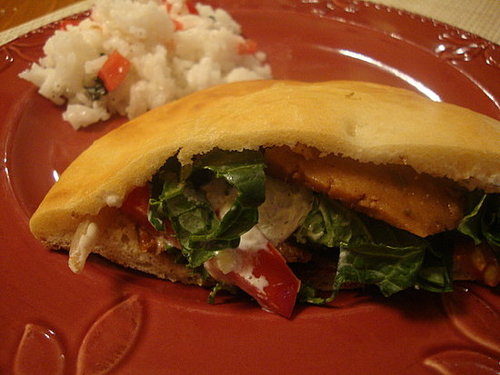 Original Recipe
Vegan Gyros with Tzatziki Sauce and Homemade Pitas
Ingredients
Sauce:
8-oz Tofutti sour cream
2 tsp garlic, minced
1 Tbs lemon juice
2 tsp red wine vinegar
1 Tbs chopped fresh mint
1/8 tsp salt
1 tsp pepper
1 large cucumber, peeled and shredded
Gyro:
2-8oz pkgs seitan, stir-fry style (Westsoy-red box)
1/2 large red onion, sliced very thin
1 Tbs canola oil
2 tsp garlic, minced
1 tsp cumin
1 1/2 tsp oregano
1/2 tsp nutmeg
1/2 tsp cinnamon
1/2 tsp cayenne
The rest:
pitas
tomatoes, sliced thin
mustard greens and kale, chopped into 1" pieces
Directions
To make the sauce:
Combine all the sauce ingredients, except for the cucumber. Put the shredded cucumber in a fine mesh strainer, cover with plastic wrap and with your hand, press down on the plastic to squeeze the water from the cucumber. Then add to the rest of sauce and combine.
For the gyros:
In a large skillet, heat the oil and garlic. Add the onions and saute until tender. Add the seitan and cook for about 3-4 mins, stirring often, until seitan browns.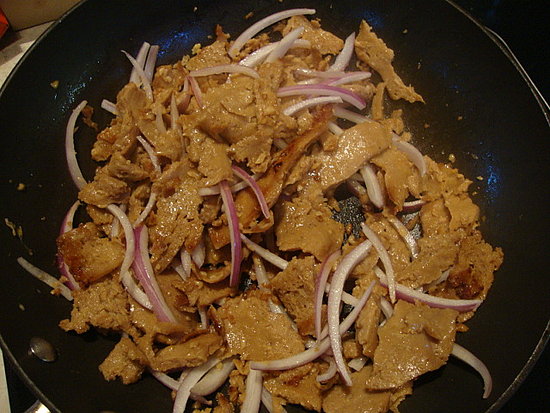 Combine the cumin, oregano, nutmeg, cinnamon and cayenne in a small bowl, and then add to the skillet. Stir and coat the seitan onions well and cover. Simmer on low heat for 3 mins. It's that easy!
Fill the pitas with the seitan, tomatoes, greens and tzatziki sauce. I served these with the Hot Rice with Cold Lemon, Basil and Tomatoes.So delicious!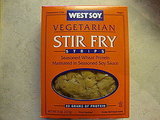 Information
Category

Other, Main Dishes
Saved to