Vegan Raspbery Linzer Torte Cookies
This is as healthy as any cookie can get!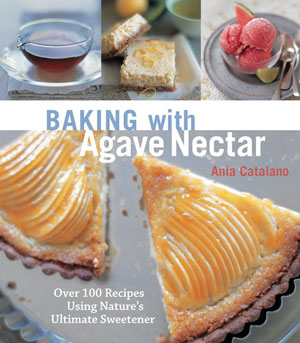 Ingredients
2 cups raw almonds
2 cups regular rolled oats (not quick cooking)
2 cups sprouted spelt four or whole wheat pastry flour
1 teaspoon cinnamon
1/3 cup light agave nectar
1 cup canola oil
1 cup juice-sweetened raspberry preserves
Directions
Preheat over to 350 degrees. Line 2 baking sheets with parchment paper.
Place almonds in a food processor and grind to a fine meal, about one minute. Remove and set aside.
Place the oats in the food processor and grind to a fine meal.
Return the almonds to the food processor along with the flour, cinnamon, agave nectar, and canola oil. Pulse to combine all the ingredients.
Roll the dough into walnut-size ball and place on the prepared baking sheets. Using your thumb, press an indentation into the center of each ball.
Fill the indentations with preserves.
Bake for 10 to 12 minutes on the baking sheets, then transfer to cooling racks to cool completely.
Reprinted with permission from Baking With Agave Nectar: Over 100 Recipes Using Nature's Ultimate Sweetener by Ania Catalano. Copyright (c) 2008 Celestial Arts Press, Berkeley, CA. www.tenspeed.com. Publisher retains all copyrights and the right to require immediate removal of this excerpt for copyright or other business reasons.
Information
Category

Desserts
Saved to