Vegan Salted Mexican Hot Chocolate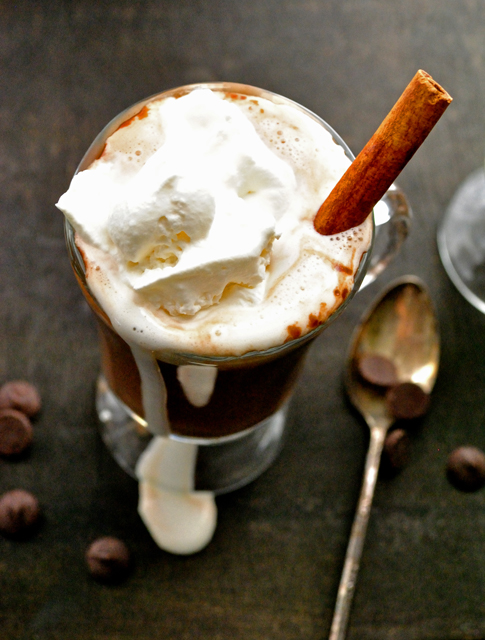 I grew up drinking the Abuelita mexican hot chocolate and quickly fell in love with the spicy + sweet chocolate combo. Rather than buy the processed stuff, I decided to make my own.  I took the spicy flavors of Abuelita, added in my love for all things salty + sweet and poured it all into a mug.  It is truly, drinkable chocolate decadence.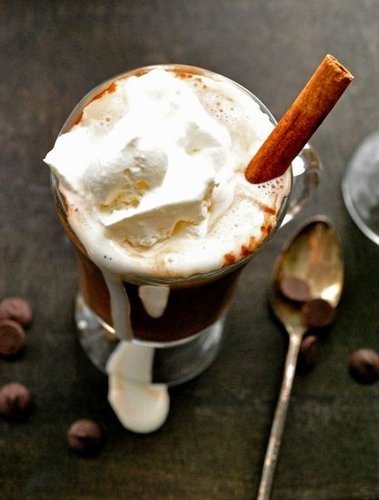 Ingredients
2 cups vanilla soy milk
1/2 cup vegan chocolate chips or chopped chocolate (use the good stuff)
1 tsp. ground cinnamon
1/4-1/2 tsp. ground cayenne (adjust to your spicy liking)
1 tsp. vanilla extract
1/4 tsp. + a pinch for serving, good quality flaky sea salt, sel gris, or fleur de sel
Directions
Yields: 4 small servings or 2 large servings
1. Heat soy milk in a saucepan over medium-low heat until it just barely begins to steam and simmer. Stir it occasionally to keep a skin from forming.
2. Add chocolate and whisk constantly until chocolate is melted.
3. Add remaining ingredients, whisking to combine.
4. Let simmer for 2-3 minutes until the mixture is hot.
5. If you're adding booze, do it here. Shut off the heat and serve immediately.  Make sure to sprinkle an extra pinch of salt on top. Yum.
Information
Category

Drinks, Hot Drinks
Saved to