Vegan Sausage Breakfast Casserole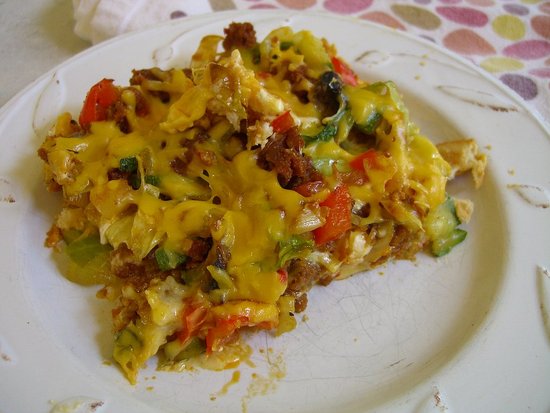 It was a beautiful, lazy morning, and I love to cook in the morning, however, it seems I usually don't have the time. It was also a good opportunity to clean out the fridge of the on-the-verge veggies that I just couldn't see get thrown away. This casserole was creamy, spicy and a great way to start the day. (And to satisfy my morning-cooking-craving). The 6th Grader even said, "Dad better not eat it all before tomorrow morning."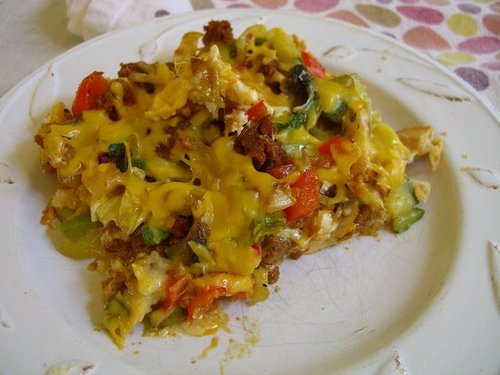 Original recipe
Vegan Sausage Breakfast Casserole
Ingredients
2 Field Roast Sausages, Mexican Chipotle flavor, crumbled
1/4 of a head of cabbage, any variety, shredded
1/2 a large red bell pepper, diced
1 large leek, chopped
6-8 mushrooms, diced
1 small zucchini, diced
2 C crackers, broken into large crumbles (herbed crackers would be nice for added flavor)
1 C Tofutti sour cream
1-3/4 C vegan cheddar, shredded and divided
Dashes of cumin, cayenne, salt, and pepper
Olive oil
Directions
Preheat oven to 350. Spread cracker crumbles on the bottom of a 9×13″ pan; set aside.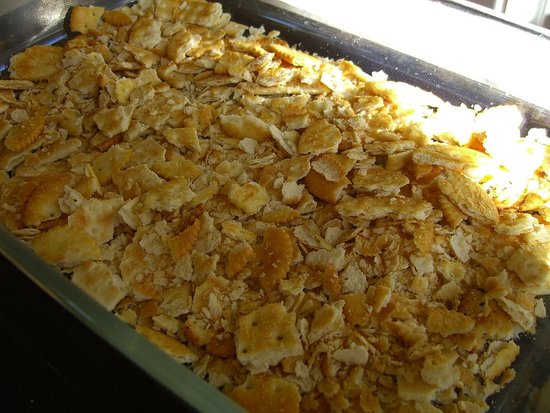 In a large skillet, heat 1-2 tablespoons of olive oil. Add bell pepper, cabbage, leek, and sausage. Saute about 10-12 minutes until vegetables are just beginning to soften and turn brown. Add mushrooms, cumin, cayenne, salt, and pepper; cook another 3 minutes, or so.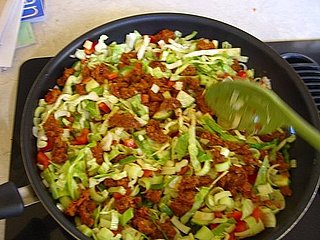 In a small bowl, combine sour cream with about 3/4 cup of the cheddar. Layer on top of the cracker "crust". You want to avoid dropping big clumps of it because you want it to be evenly spread on top of the crackers. Try and spread it around as best you can.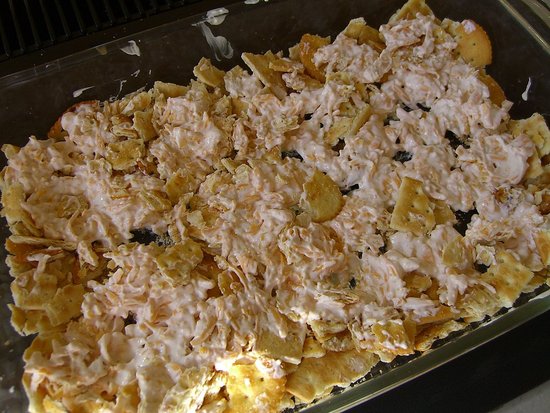 Layer with sausage mixture and spread it out evenly. Top with remaining cheddar cheese and bake uncovered for 20 minutes.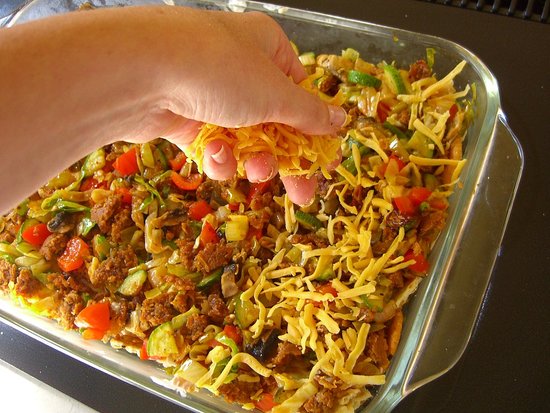 Let it sit a couple of minutes before slicing it up. Enjoy!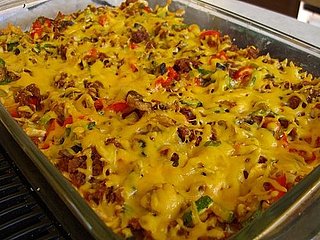 Information
Category

Breakfast/Brunch, Casseroles
Saved to