Vegetable-Barley Chili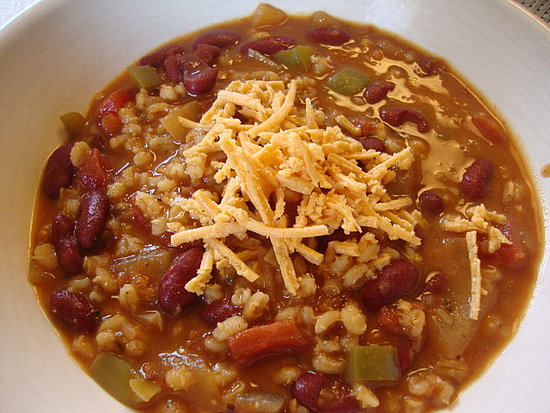 This morning, I awoke to this: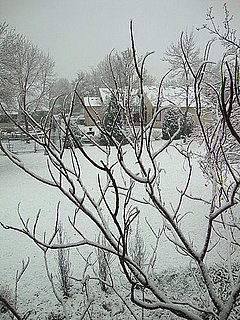 And this is how it is now . . . (same day, folks):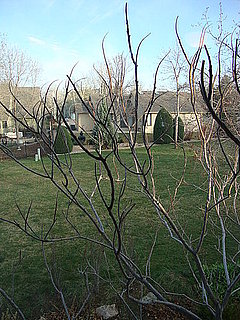 Living in Colorado my whole life, I should be used to this kind of schizophrenic weather, but it still amazes me when it happens. The good thing about this morning's freak snow storm is that it kept me sequestered inside and busy writing. I planned on making just spaghetti for dinner, but like the weather, I switched it up and made this chili. I didn't have all the ingredients I normally use, but I remember a friend telling me recently, that she uses barley in chili. I decided to give it a whirl. The family actually liked it better than my original chili recipe. If you're not used to that much fiber (between the beans and the barley) I suggest easing up on the beans, perhaps.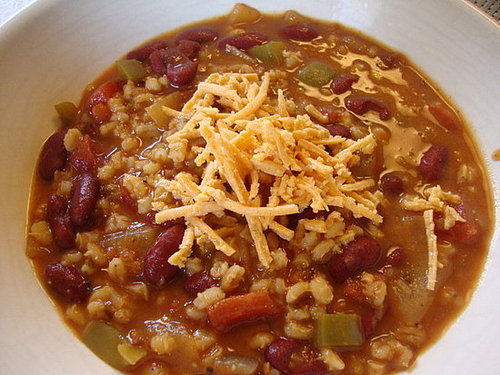 Original recipe
Vegetable-Barley Chili
Ingredients
2 14-oz cans kidney beans, drained and rinsed
28-oz can diced tomatoes
1 large onion, chopped
1 green bell pepper, diced
3/4 C pearled barley
1 Tbs olive oil
5-6 C water and/or vegetable broth
1 pkg chili seasoning or . . .
HOME MADE CHILI SEASONING:
1 Tbs Ancho chili powder
2 tsp cumin
1 tsp oregano
1 Tbs dried minced onion
1 tsp paprika
1/2 tsp sea salt
1/2 tsp black pepper
1 Tbs ground dried chilies
Directions
Heat the olive oil in a large soup pot; saute the onions and bell pepper until slightly browned. Add the beans, tomatoes, and about 3 cups of water. Bring to a boil and then add the barley. Combine all the seasoning ingredients; add to the pot. Partially cover and simmer for 15-20 minutes, stirring occasionally. Add more water (or broth) if needed in order to reach the consistency you want. Continue simmering for 10-15 minutes. Serve with some shredded vegan cheese and/or a dollop of Tofutti sour cream. Enjoy!
Information
Category

Soups/Stews, Chili
Saved to