Vegetables Korma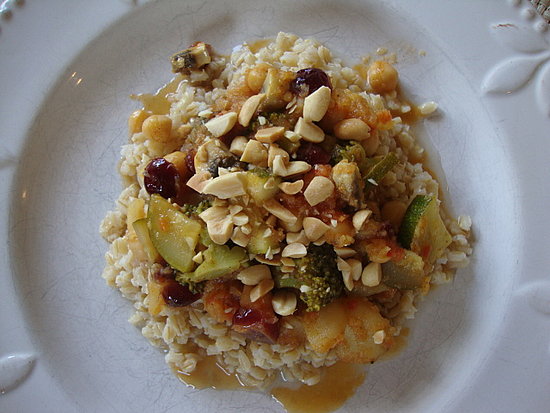 I saw this recipe in Vegetarian Times but I made several changes like using barley instead of rice and fresh vegetables instead of frozen. I really loved the flavors and heartiness of this meal. It makes quite a bit, so feel free to halve the recipe is only feeding two.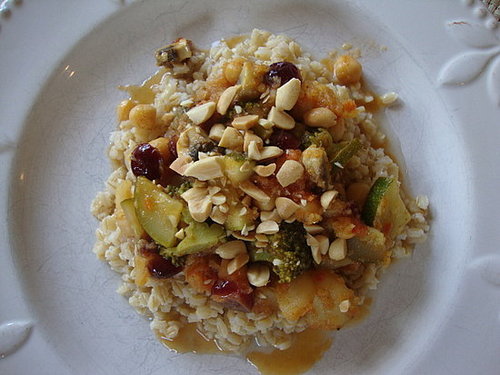 Adapted from Vegetarian Times
Vegetables Korma
Ingredients
1 C barley
4 medium tomatoes, cut into chunks
1 white onion, cut into chunks
3 Tbs fresh ginger, minced
2 Tbs olive oil
1 tsp garam masala or curry powder
3/4 tsp ground cardamom
4 Tbs golden raisins (I used craisins)
2 C broccoli florets
1 C mushrooms, quartered
1 can waterchestnuts, chopped
1 zucchini, sliced then quartered
1-15oz can garbanzo beans, drained and rinsed
1/3 C coconut milk
Toasted peanuts, chopped
Directions
Cook the barley according to package instructions. You can use vegetable broth in the place of the water, if you'd like. Keep in mind, the barley will take 50-60 minutes to cook. Using a food processor, puree the tomatoes, onion, and ginger. In a large saucepan, heat the oil over medium heat; add the curry powder and cardamom; cook for 30 seconds. Add the puree and raisins to the pan. Simmer for a couple of minutes until it start to thicken.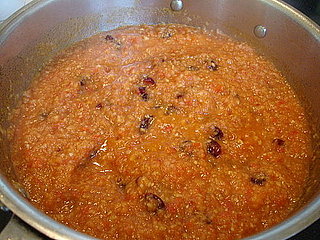 Stir in the vegetables, garbanzo beans, and coconut milk. If it's too thick, add a bit more coconut milk. Season with salt and pepper, if you'd like. Cover and reduce heat to medium-low and simmer for 15-20 minutes, or until veggies are tender.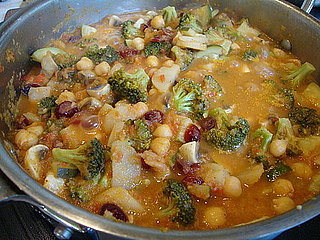 Serve over the barley, sprinkle with the peanuts, and enjoy!
Information
Category

Other, Main Dishes
Saved to