Very Vanilla Cake
I wanted something simple for Em's first Bday, I had enough other things to do and even though I wanted home made cake... I didn't want something overly complicated and fancy. Also figured that since she hasn't had chocolate yet, it may not be a good idea.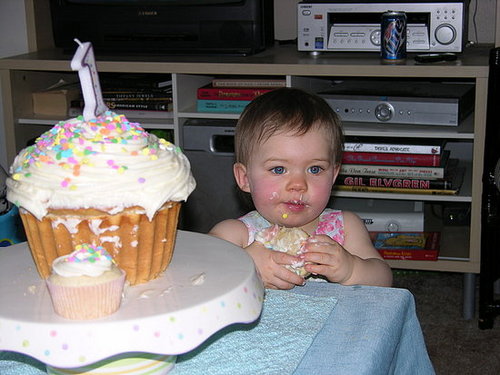 original recipe
Very Vanilla Cake
Ingredients
3 sticks of butter (unsalted)
2 c. sugar (I used bakers sugar from C&H, I just like how it turns out)
4 eggs
2 c. buttermilk
2 Tbs. vanilla extract (I used double strength extract from Penzy Spices http://www.penzeys.com )
1 Tbs. vanilla bean paste ( I got this in the baking aisle at whole foods)
4 c. Cake Flour
1/2 Tbs Baking Powder
(The frosting I used was a basic cream cheese frosting, but I'm sure butter cream would be just as nice)
Directions
1. Cream together the butter and sugar until pale yellow and creamy.
2. Mix in the eggs, buttermilk, vanilla extract, and vanilla paste.
3. Add in the cake flour and baking powder and mix until smooth (but don't over beat)
4. FOR CUPCAKES: makes 24. Bake at 325F for 25 to 30 min.
5. FOR GIANT CUPCAKE PAN (like I have in the pic, from Wilton) Spray with non-stick spray, pour into mold about an inch to an inch and a half from the top. Bake at 325 for 45 min to an hour (until cooked in center... this took a while). Remove from oven and let sit in the pan for 30 minutes before unmolding. Let cool completely before decorating.
(As I haven't made this in regular pans yet, I don't have directions for that... yet ;-) )
Information
Category

Desserts, Cake
Saved to