Vichyssoise (Potato & Leek Soup)
Spring fever has hit, and in looking for a seasonal recipe I dug out an old favorite. Though vichyssoise sounds beyond ordinary reach, it is quite the contrary. A farmers' soup, made of fresh greens, potatoes and cream, it is one of the simplest in my collection, and always hits the spot.
P00ka's Primer
Vichyssoise (Potato & Leek Soup)
Ingredients
2-3 Yukon Gold Potatoes
4 Cups Water
Dash of Salt
2-3 medium to large Leeks
2 Cups Milk
Optional:
Fresh Chives
-or-
Fresh Cucumber
Directions
Peel & cube 2-3 Yukon Gold Potatoes.
Bring to a boil in a 4-qt pot with 4 Cups Water and Dash of Salt.
Slice 2-3 medium to large Leeks lengthwise, and rinse to remove any remaining dirt.
Once boiling, reduce the heat of the potatoes to medium, and add trimmed leeks and 2 Cups Milk.
Simmer until potatoes and leeks are tender and fully cooked; about 20 mins.
Remove from heat to cool slightly, then purée and strain (fine sieve or cheesecloth).
Chill, stirring occasionally, then serve with traditional chives, or try sliced cucumber for seasonal flair.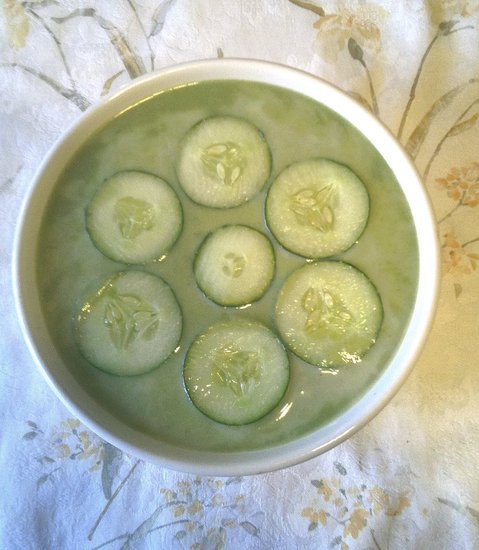 Makes 6 cups.
Information
Category

Soups/Stews, Cream

Cuisine

French
Saved to