Victoria's Secret Angels: Meet the New Class!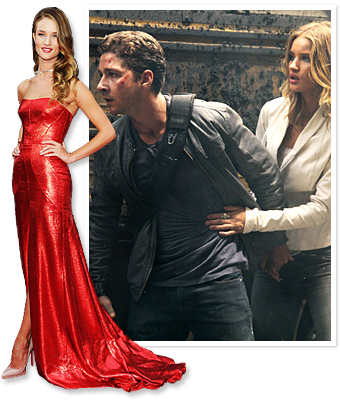 The Victoria's Secret Angels are spreading their wings! Rosie Huntington-Whiteley is the latest Angel-turned-phenomenon, with her acting debut in the box office smash Transformers: Dark Side of the Moon (and her stunning red carpet style that went along with the global premieres). So, who's going to be the next Heidi Klum? The next Gisele? Click through the gallery meet all the current Victoria's Secret Angels, and see what they're doing beyond the lingerie.
— Leah Abrahams
www.instyle.com

Rosie Huntington-Whiteley, 24
This British Angel-turned-actress first caught our eye when she was cast as Megan Fox's replacement in the third Transformers film, but it was her jaw-dropping premiere style that wowed us completely. Huntington-Whiteley made her first Victoria's Secret debut at the 2006 fashion show, she posed for Burberry in 2008, and recently signed on to be the first face of the brand's to-be-released fragrance, Burberry Body.
 

Miranda Kerr, 28
Kerr was the first ever Australian to sign on with Victoria's Secret, becoming an official Angel in 2007. She's also on the road to moguldom—she launched organic skincare line KORA Organics in 2007, and will soon release a self-help book entitled Tresure Yourself. On top of it all, she married Orlando Bloom and gave birth to their first child, son Flynn, earlier this year.
 

Lily Aldridge, 25
Aldridge was quickly given Angel status after she started modeling for the lingerie brand in 2009. This bohemian beauty loves music, something she has in common with her beau, Kings of Leon frontman Caleb Followill. She starred alongside Followill in his band's music video "Use Somebody" in 2008, and the pair married in May of this year.
 

Adriana Lima, 30
Labeled "one of Brazil's finest exports" by AskMen.com, this Brazilian model's sultry looks and killer curves got her Angel status since 2000. She has ranked in Forbes' top-earning models in the world since 2005. In 2009, Lima gave birth to her first child with NBA star Marko Jaric, daughter Valentina, but was back on the Victoria's Secret runway the following year.
 

Candice Swanepoel, 22
There's a new blond, leggy Angel in town: Candice Swanepoel is one of Victoria's Secrets newest models to earn a pair of wings, and has since become one of the most widely recognized faces of the brand. No stranger to swimwear, the South Africa native was featured in the Victoria's Secret 2010 Swim catalog, as well as in 2008's Sports Illustrated Swimsuit Edition.
 

Alessandra Ambrosio, 30
A model since 12, the Brazilian beauty landed countless magazine covers before signing on with Victoria's Secret in 2004 (she became an Angel that year). Her supermodel hotness has paid off—Forbes has named Ambrosio one the world's highest paid models since 2007. She also dedicates her time to charity work as the National Ambassador for the National Multiple Sclerosis Society.
 

Doutzen Kroes, 26
This Dutch stunner worked with countless A-list designers (Gucci, Tommy Hilfiger, Versace, Valentino and Blumarine) before becoming a Victoria's Secret Angel in 2008. But Kroes' work extends beyond the runway: She is an ambassador of Dance4Life, a program that empowers young people around the world to take action to halt the spread of HIV. She married Dutch DJ Sunnery James in 2010, and gave birth to her son James this year.
 

Chanel Iman, 20
With a name like Chanel Iman, it's no surprise that the Georgia native breezed into the elite class of models. After charming the fashion industry in campaigns for Bottega Veneta, GAP, Ralph Lauren, Express and DKNY, Iman received her Angel status in 2010. At 20, Iman is the youngest angel to represent the brand.
 

Erin Heatherton, 22
Heatherton is known for her girl-next-door looks. From the small town of Skokie, Illinois, she was discovered while vacationing in Miami. The Angel currently stars in the brand's Body by Victoria campaign.
 

Behati Prinsloo, 22
The face of Victoria's Secret's PINK Collection, Prinsloo can be found making appearances nationwide on behalf of the brand. As spokesperson for the PINK Collegiate collection, Prinsloo pays visits to various colleges and universities nationwide. Prinsloo became an Angel in 2009, and is ranked 15th on models.com's "The Top Sexiest Models" list.
 
 
 
Saved to