ViewSPORT Inc: Motivation Revealed
ViewSPORT Inc: Motivation Revealed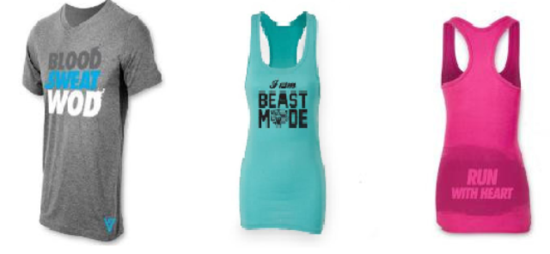 Casey caught up with Ben Wood, the Head Coach and CEO of ViewSPORT to discuss sweat activated apparel.

Can you begin by telling us how the idea of ViewSPORT started?
ViewSPORT®began as an idea during long workouts. Having no real measure of the work done during each workout, the idea of a shirt that shows a design when you sweat was born. But how was Sweat Activated Technology created? The technology was developed at a workbench in 2009 by Ben Wood, chemist and Head Coach.
How did this dream become a reality?
Hard work. Ingenuity. And a support network of friends, family, and creative minds that believed in the product.
Who uses ViewSPORT?
Anyone working out - in the gym, at home or in a training camp – that wants to see results. That's why they do it. But to get results, you need to push yourself. ViewSPORT is for athletes and serious exercisers who push themselves during workouts and take pride in that. The trendsetters and early adopters of the next new thing. Generally, anyone 17-35 male or female.
A question from Facebook: What happens when you wash it...and can it be washed with other clothes?
The technology lasts over 50 washes. It fades over time just like normal shirts would.
So how does it work?
When you exercise and begin to sweat, an image appears. We call it ViewSPORT Sweat Activated Technology - and the more you sweat, the clearer the image becomes. It's motivation through perspiration.
Are you an apparel company or a technology company?
Apparel is the toe-hold that allows us to demonstrate our technology. Our brand awareness is growing significantly. Our long term strategy is to continue to fund awareness building through custom apparel contracts and our brand then license the technology to bigger players with the distribution and marketing muscle to support national and international retail sales.
Are there any companies out there doing anything remotely close to what you have created?
There are technologies similar to what we do, but having sweat activated motivational messages is unique and exclusive to ViewSPORT. We are the originators of Sweat Activated Apparel.
Besides the obvious difference between your apparel and you opponents', what else sets you apart from your competition?
I think what makes us different is that we're athletes who started a business - not businesspeople trying to speak to athletes. We run, we crossfit - we sweat every day. We want to motivate and inspire everyone to live lives of fitness. We want people to realize they can change their lives and get better everyday. We don't just measure success in dollars and cents - we measure success in lives changed, sweat and miles run.
How did ViewSPORT become the official tour shirt for Gus Macker basketball?
We have a strong relationship with Scott McNeal and Gus Macker. We identified that a partnership would be mutually beneficial. The technology is perfect fit for Macker and has proven so this year.
What is the objective of ViewSPORT?
To provide the motivated athlete with a new tool that can be used as a visible measure of their sweat equity while providing the athletic apparel market with the next new thing.
Athletic apparel - not including shoes - is a fifty four billion dollar business in the United States alone. The four largest players combined represent only eighteen percent of this market. The rest is split between over two thousand smaller players. So there is a huge market with a low barrier to entry. And that's just the athletic apparel market. This same technology has applications in other channels: military boot camps and garment security features.
Are your products sold exclusively on www.viewsport.us or can they be found on any other sites or in any other stores?
You can find us in Lax World, Aura Sports, Naperville Running, and other unique stores. We sell exclusively online, and most of our products are online only. Most of our lines will only produce a handful of that design and move on to the next. We want people to feel unique. Some shirts only have 24 others like them in the world. Each shirt is different and so is their style. We hope to significantly expand our retail presence both online and in stores. We are also actively pursuing military sales to use our technology as a physical training aid and are in currently partnering with Designer Whey for an online workout video program.
Check out the ViewSport apparel at: www.viewsport.us
Find more health and nutrition information at: www.meetcasey.com

Saved to