AND THE WINNER WAAAAS...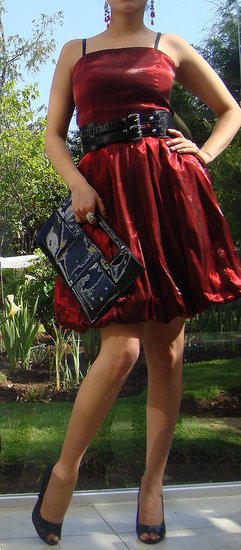 THE BURGUNDY DRESS!!!! thank you girls for all your input!! I really took it into consideration, but it turns out that all my friends had colorful dresses (i uploaded pics from the party if y'all wanna see!) and it wasn't like a real cocktail... it was like a pre-graduation party at some lounge so it was kind of informal but formal enough to wear a dress, SOOOO i definitely would have been out of context with that black dress! LOL.... I can't wait to wear it on a Christmas dinner or something, though!
Dress - Biography
Belt - Via uno
Shoes - Via uno
Clutch - Via uno (yeah, i love the store!)
Jewelery - can't remember!
P.S. thank you Shopaholichunny for introducing me to the wonderful world of clutches!!! love ya, SH!!
Saved to