Warm Cranberry Balsamic Pasta Salad
This pasta is seriously delicious and makes for a perfect lunch leftover and it's guaranteed to make everyone in the office jealous of the smells radiating from your desk!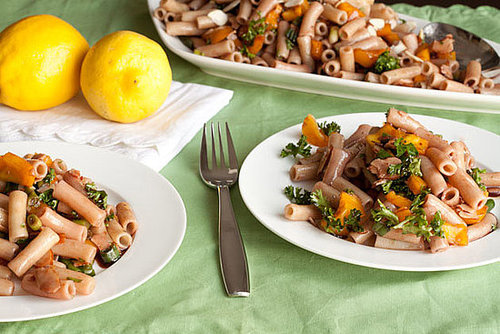 Ingredients
Cranberry Balsamic Vinaigrette:
* 1/4 cup olive oil
* 1/2 cup cranberry juice – I used unsweetened juice
* 1/4 cup balsamic vinegar
* 1 tsp lemon zest
* 1/4 tsp herbamare or Himalayan rock salt
* pinch stevia
* pepper to taste
Salad:
* 2 cups dry pasta – I used rice pasta!
* 1 yellow bell pepper, diced
* 1/4 cup raw slivered almonds + more for garnish
* 1/4 cup fresh parsley + more for garnish
* 1/4 cup green onions
Directions
Cook pasta as per package instructions. Once cooked and strained, set aside.
Meanwhile, combine all vinaigrette ingredients in small saucepan. Heat on medium-low heat until it boils, then reduce heat to low and simmer for 2 minutes. Make sure to stir every 30 seconds to 1 minute.
Drop cooked pasta into a large serving bowl, top with remaining salad ingredients and pour vinaigrette over top.
Stir to coat and serve immediately.
Nutrition stats [1 cup]: calories 248; fat 11g; carbohydrates 36g; dietary fiber 4g; sugars 2g; protein 3g
Information
Category

Salads, Pasta
Saved to