What Is My Tracker?
My Tracker is a great way to keep up on all of the wonderful content across the PopSugar Network! You can keep track of all of the Sugar sites, OnSugar blogs, and all of the great community groups you belong to. To track a blog, go to the homepage and click on Follow in the top right in the black bar.

To track a group, become a member, go to the homepage of the group, and click on Join Group on the right.
When using My Tracker, if you click through on one of the posts, it will continue to show up when there are new comments. If you do not want it to appear again in My Tracker, just check the Mark Read box on the right-hand side. A great new feature is the ability to show posts you might have marked read and want to reference again. You can now hide or show your posts that have been marked read; to switch between, just check the Hide Post I've Read box on the left-hand side.
Also, the tabs across the top sort by PopSugar Network sites, Community Groups, and OnSugar blogs.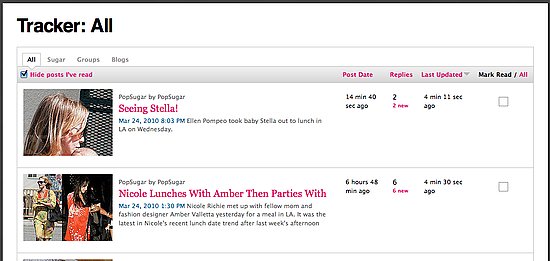 Saved to