What about your post-pregnancy belly?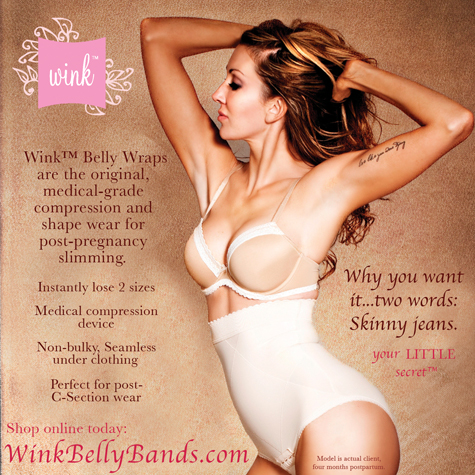 As a mom to (soon-to-be) three children I can relate to wanting my body back FAST after having a baby. Luckily 4 years ago after the birth of my son I was able to work with a plastic surgeon and OB to develop a system of post-pregnancy garments that are medical based and that WORK! They are seamless under clothing, come in 3 styles to compress not only your tummy but hips, thighs, bum, and legs. Anti-microbial fabric makes them wonderful for c-section births and immediate post-pregnancy.
We are looking for 5 pregnant mommies that will keep a diary of their 6 weeks post-partum and wearing out Wink garments. You will need to take weekly pictures and send them to us to use for the web site and marketing BUT you also will get FREE WInk Belly Bands garments :) (how cool is that)!!!
Email us at hi@winkbellybands.com to be entered for the drawing to become one of the lucky 5!!
http://www.facebook.com/pages/Wink-Belly-Bands-Medical-Grade-Postnatal-a...
Saved to