White Chicken Chili
The boy makes this all the time but I never knew how. Last night, he wasn't home, so I gave it a shot. It is super easy and delicious.
Forgive the photo. I took this pic of my leftovers in a Tupperware with my camera phone.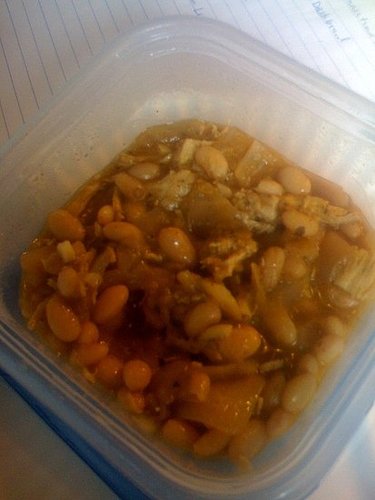 The boyfriend's mom
White Chicken Chili
Ingredients
2 large boneless chicken breasts
1 can Great Northern beans
1 white onion, diced
3 cloves garlic, minced
1.5 cups salsa verde (we just buy it in jars at the supermarket)
1/2 can or bottle of beer, nothing too dark (optional)
2.5 cups chicken broth
2 tbsp cumin
1 tbsp chili powder
shredded cheddar or Mexican cheese
sour cream
olive oil
Directions
1.Put the chicken breasts in a saucepan. Cover them with water and put them over medium-high heat. Boil until cooked through, about 15 minutes (if they are not 100% cooked through, it's okay, they will finish cooking later).
2. Heat olive oil in a large pan over medium heat. Cook the onion and garlic until softened, about 5 minutes.
3. Add the salsa verde, cumin and chili powder. Heat until simmering.
4. Add the beer and broth. Bring to a boil and then reduce to a simmer.
5. Drain the can of beans and add to the pot. Let the pot simmer over low heat, uncovered, for about 45 minutes, stirring frequently. You want the liquid to reduce a bit so it's not so soupy.
6. Meanwhile, when the chicken is cooked through, remove it from the saucepan, let it sit until cool enough to handle, and shred it with two forks.
7. After the 45 minutes is up, add the chicken to the pot, bring the heat up just a bit and cook for 10 more minutes.
8. Add a handful of shredded cheese to the pot, stir. It will melt immediately.
9. Serve with more cheese and sour cream on top.
Information
Category

Soups/Stews, Chili

Cuisine

Mexican
Saved to