Why I'll Miss Mark Brendanawicz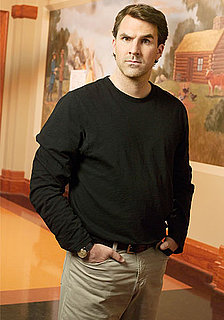 Bad news for Parks and Recreation fans: Paul Schneider, AKA Mark Brendanawicz, is leaving the show at the end of this season. Mark may not be beloved by every P&R fan, but it's mainly just because his character is not as outrageously hilarious as the rest of the cast is. Either way, I'm a huge Schneider fan and am mourning this loss either way. To that extent, I give you: my five reasons for why I'll miss Mark.
He's the welcome straight man in a sea of craziness. Who's going to keep Tom, Ron, and Leslie in check now?
He's keeping Ann and Andy apart. I want him for April!
Paul Schneider is adorable. Now I will have to funnel all my crush energy into Andy and Tom.
We'll lose his evolution into a committed guy. How cute was he on Valentine's Day with all the gifts?
I don't want any of he current chemistry of the cast to change, no matter how weak the character.
Are you going to miss Mark/Paul Schneider on Parks and Rec?