Would You Ever Put Your Toddler in a Tiara?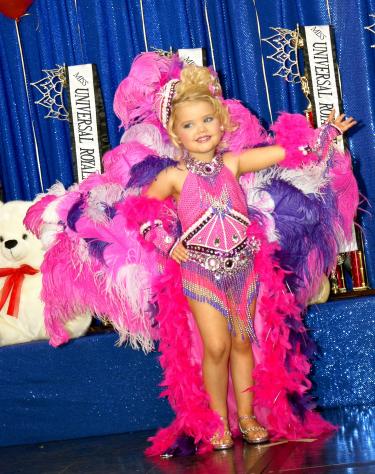 from   http://tlc.discovery.com/tv/toddlers-tiaras/about-toddlers-and-tiaras.html  :
"On any given weekend, on stages across the country, little girls and boys parade around wearing makeup, false eyelashes, spray tans and fake hair to be judged on their beauty, personality and costumes. Toddlers and Tiaras follows families on their quest for sparkly crowns, big titles, and lots of cash.
The preparation is intense as it gets down to the final week before the pageant. From hair and nail appointments, to finishing touches on gowns and suits, to numerous coaching sessions or rehearsals, each child preps for their performance. But once at the pageant, it's all up to the judges and drama ensues when every parent wants to prove that their child is beautiful."
from  http://www.sfgate.com/cgi-bin/blogs/sfmoms/detail?entry_id=43981#ixzz0fur6Czqc  :
"About a dozen Facebook pages have popped up asking TLC to kill the show; the largest of these, "Help Ban the TLC Show 'Toddlers and Tiaras' " has over 5,000 members. The page's description reads: "These girls are scantily clad, painted up like dolls, making them look too mature for their age. These children are being exploited by these pageants and by the show. This show is promoting pedophilia, and is very much sexualizing these children." "

There is little to no praise for this show. Lillsugar had mentioned toddlers in tiaras a few times before, but there's never been a poll.  Would you ever put your toddler in a tiara?
Saved to