Zucchini Fritters
http://www.elise.com/
Zucchini Fritters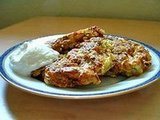 Ingredients
1 lb of zucchini, coarsely grated
Salt
Ground black pepper
1 large egg
2 scallions, finely chopped
3/4 cup all-purpose flour
1/2 cup olive oil
Sour cream
Directions
1. After grating the zucchini, salt it with about 1 teaspoon of salt. Try to remove the excess moisture from the zucchini by either squeezing the liquid out with your hands, potato ricer, or by squeezing with paper towels. You can also just let it sit in a strainer for 1 hour and the water should slowly drain out.
2. Whisk egg in a large bowl; add the zucchini, flour, scallions, and 1/4 teaspoon of pepper. Mix to combine well.
3. Heat oil in a large skillet over medium heat. Drop mounds of batter (1/4 cup) into the skillet. Flatten slightly. Cook, turning once, until browned, 4-6 minutes on each side. Transfer to a paper towel-lined plate. Sprinkle with salt. Repeat with remaining batter. You might have to cook longer.. remove from skillet when golden brown.
Serve immediately, with sour cream or plain yoghurt on the side.
Saved to