bourbon chicken without the bourbon
i got this recipe off the internet. funny that it's called bourbon chicken and didn't call for bourbon. it was tasty though. i added 3/4 T of cornstarch to thicken the sauce. i served it with stir fried green beans with garlic.
internet
bourbon chicken without the bourbon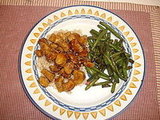 Ingredients
2 lbs boneless chicken breasts cut into bite sized pieces
2 T olive oil
1 garlic clove crushed
1/4 t ginger
3/4 t crushed red pepper flakes
1/4 C apple juice
1/3 C light brown sugar
2 T ketchup
1 T cider vinegar
1/2 C water
1/3 C soy sauce
3/4 T cornstarch
Directions
heat oil in large skillet. add chicken pieces and cook until lightly browned. while chicken is cooking, mix remaining ingredients in a bowl. remove chicken. add remaining ingredients, heating over medium heat until well mixed and dissolved. add chicken and bring to a hard boil. reduce heat and simmer 20 minutes. serve over hot rice and enjoy.
Saved to