Summer's Arrived: Guacamole Salad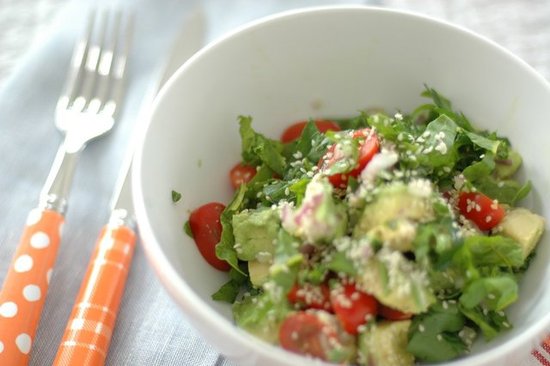 When summer arrives, you can usually find me looking for as many ways to enjoy guacamole as possible. I love it served old-school style with a big bag of chips, slathered on a burger, scooped over a salad⎯and even⎯as a salad itself! There are so many ways to get creative with guacamole. I have a blast every summer.
The guacamole salad recipe below is one of my new favorites. Let me know what you think!
Summer's Arrived: Guacamole Salad
Serving Size: 4
Ingredients
1/2 small bunch curly green kale*
1 pint cherry tomatoes*, sliced in half
1/4 cup fresh cilantro*, roughly chopped
1/4 cup fresh parsley*, roughly chopped
1/4 – 1/2 small red onion, diced
4 avocados, pitted, peeled and cubed
1/2 cup toasted sesame seeds
3 tablespoons extra-virgin olive oil
juice of 1/4 lemon*
1/2 teaspoon lemon* zest
Sea salt and pepper
(* Buy organic, if possible.)
For more about the better-for-you ingredients in this recipe and assembly instructions visit Green Lemonade.
Saved to