Chocolate Chip Cookies (With A Rockstar Twist)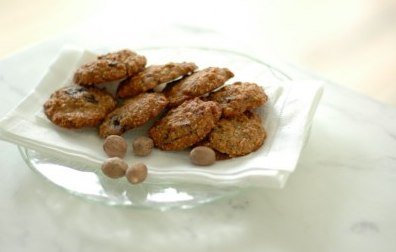 Cookies are always a favorite of mine to bring around to BBQs and casual parties. They are easy. They transport well. Plus ⎯you can fill them with a lot of rockstar ingredients (like chia seeds)…..and they still taste great too. In addition to the nutritional punch, what makes these cookies special to me is the potpourri of vanilla, freshly grated nutmeg, cinnamon and allspice. It really takes the uniqueness of these cookies to the next level. I'm tucking these into my suitcase for the holiday weekend. Hope you have a great one.
Healthy Chocolate Chip Cookies
Makes 36 mini cookies (~100 calories each)
Ingredients
3/4 cup all-purpose flour
1/4 cup chia flour (yes really! it works just like all-purpose flour)
1/4 cup whole wheat pastry flour
1 teaspoon kosher salt
1 teaspoon baking soda
1 teaspoon ground cinnamon
1/4 teaspoon freshly ground nutmeg
1/8 teaspoon allspice
2 sticks unsalted butter, softened
1 cup packed brown sugar + 1/2 cup (if you like a sweeter cookie)
1 large egg
1 teaspoon good vanilla extract
2 cups rolled oats
1/2 cup chia seeds
1/2 cup hemp seeds
1 1/2 cups chocolate chips (60% cocoa) or chunks (get the good stuff)
1/2 cup walnuts
To learn more about the better-for-you ingredients in this recipe and to grab the assembly instructions head over to Green Lemonade.
Saved to