katie lee joel's peach cobbler
thought i would try her peach cobbler since i love her cookbook. so far i have only made this and her deviled eggs which were delish! i usually make paula deen's peach cobbler (which i love-sticky/yummy) that uses canned peaches, but since i have fresh peaches i wanted to try something different. this cobbler isn't as sweet as paula's, but it is still very good.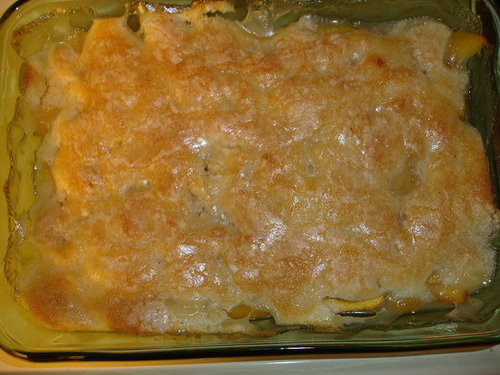 katie lee joel: the comfort table
katie lee joel's peach cobbler
Ingredients
4 cups peeled, sliced fresh peaches (about 4-5 peaches)
1 1/2 cups sugar
1 cup all-purpose flour
1 teaspoon baking powder
1 teaspoon kosher salt
1/2 cup milk
4 tablespoons (1/2 stick) unsalted butter, melted
1 tablespoon cornstarch
3/4 cup boiling water
Directions
preheat oven to 325. place the peaches in a 9 by 9 baking pan.
in a medium bowl, mix together 3/4 cup of the sugar, the flour, baking powder, and 1/2 teaspoon salt. add the milk and melted butter and mix well. pour the batter evenly over peaches.
in a small bowl, mix the remaining 1/4 cup sugar, the cornstarch, and 1/2 teaspoon salt. sprinkle over the batter. evenly pour the boiling water all over. bake for 50 minutes or until golden brown and bubbling.
Information
Category

Desserts
Saved to