lavender cookies with rosewater icing
lavender is lovely for baking; a little goes a long way. rosewater is a nice compliment, and coconut milk gives the icing a silky-smooth texture! these SUPER-EASY cookies are quick to make and go well with tea. this recipe yields about 24 cookies. nutrition info from mastercook: each cookie has about 122 calories and 4 grams of fat. not bad!
this is a modified version of a recipe from ~Rita~ on RecipeZaar: http://www.recipezaar.com/63381
lavender cookies with rosewater icing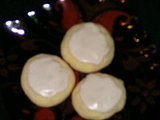 Ingredients
2 medium eggs
1/2 cup unsalted butter
1/2 teaspoon vanilla extract
1 cup sugar
1 teaspoon lavender*
1 1/2 cups all-purpose flour
2 teaspoons baking powder
1/2 teaspoon salt
1 cup powdered sugar
1-2 tablespoons coconut milk
1 tablespoon rosewater*
*many grocery stores now sell culinary lavender and rosewater -- i found mine at whole foods. rosewater is also commonly found at middle eastern shops; lavender you might find at a latin american grocery store. if not, you can definitely find these items online. be sure that your lavender and rosewater are additive-free and intended for food use!
Directions
rosewater and culinary lavender

culinary lavender
1. Preheat the oven to 370 degrees.
2. Mix eggs, butter, sugar, vanilla, and lavender until well-blended.
3. Sift flour, baking powder and salt into a mixing bowl.
4. Mix in half of flour mixture into the wet ingredients. Mix in the other half.
5. Refrigerate the dough, if desired. Drop tablespoonfuls of dough 2" apart on an ungreased cookie sheet.
6. Bake until lightly browned, about 10 minutes. Let cookies cool.
7. While cooling cookies, make the icing. Blend 1-2 tablespoons coconut milk with 1 tablespoon water. Add this mixture to 1 cup sifted powdered sugar and mix until well-blended.
8. Ice the cookies and let them set until frosting is firm.
Saved to