Meep the Rainbow Connection
I wanted to share my latest manicure combination with you all!  These two polishes are part of the OPI Muppets collection.
I'm wearing 2 coats of Meep-Meep-Meep as a base then I used a single coat of Rainbow Connection over the top.  Total celebration on my nails!
A girl can never have too much glitter in my opinion!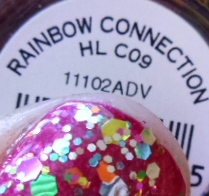 Check out my blog if you would like to read more about products and see reviews!
http://www.beautybesties.wordpress.com
xoxo
Saved to