shokay pom pom booties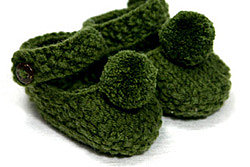 cradle your baby's feet in these soft and cozy hand-knit fluffy pom pom booties.
shokay is luxury with a story: hidden from most of the world by its remote location, shokay yak down derives its unique origins from the mountainous himalayan regions of western china. the fibers are hand-combed from the yaks that dwell there, whose ancient existences continue to serve as a life source for the tibetan herders. from this down comes a soft and beautiful fabric, unlike any other.
Read More
Saved to